Posted by BB Wheels on 17th Mar 2020

Most of the truck and SUV drivers like street tires on their vehicle. You might not be one of them, but If you are, that's great. Otherwise, you may choose smaller wheels and larger tire for your vehicle. Both have their own appearance, each with their own strengths and weaknesses. But today we will look at the Nitto brand and its latest SUV and truck tire, the NT420V.
The Nitto NT420V is specially designed for luxury trucks, jeeps and SUVs, especially all-season tires and LT metric tires. Nitto NT420V built with an all-season feature and the manufacturer ensure the road grip, for an outstanding driving experience no matter the vehicle carries heavy loads. This tire is the best replacement to NT420S, that was once the preferred tire by off-road enthusiasts.
NT420V Nitto Tire Review
These new premium tires are designed to improve road connections, improve experience of the driver, and look nicer while driving and shine in all areas. The characteristic diamond pattern on the sidewalls and the fantastic asymmetrical tread pattern ensure a perfect combination of aftermarket wheels and tires, regardless of the type of vehicle.
Each part of NT420V has been carefully designed. This asymmetrical model not only works well but also works well in wet and humid conditions. On the one hand, it ensures dryness, and on the other, it provides wet performance, which together makes a unique look that you will not find in different tires.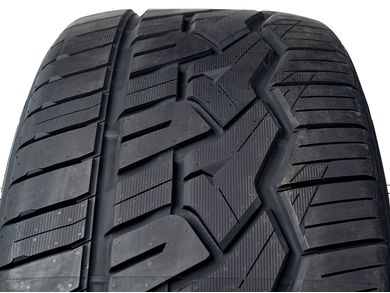 Nitto didn't stop there. Besides the exclusive tread pattern, it also ensures that the tire has no maneuvering. This means that buying a tire set can turn sideways which can significantly extend the life of the tires (you'll save money ultimately).
Nitto has extensive experience in tire sizes and types and has long offered NT420S enthusiasts. Based on this tradition, the NT420V uses a modified running model created by Nitto's own computer simulation technology to provide the all-seasonal drive and reduce road noise. Finally, NT420V offers metric LT dimensions selected in the F range, offering truck owners 3/4 ton with distinct and seasonal tires. In total, this tire comes in 32 different sizes are provided by the Nitto.
A Little About Nitto
Nitto was founded in 1979 and since then has been offering car lovers many new and innovative tire that made with modern technologies. Combining continuous development with the latest technology and modern aesthetics, they have created the best tires in the industry for buyers. They went through high-quality engineering, rigorous tire testing, and produced and supplied high-quality tires before they were marketed and developed to the latest level.
Vehicles that can wear the all-new Nitto NT420V
-Ford Expedition

-Chevy Tahoe

-Jeep Grand Cherokee

-BMW X5

-BMW X7

-Cadillac Escalade

-Land Rover

-Lincoln Navigator

-Range Rover

-Mercedes GLE AMG

-Toyota Tundra

-Chevy Silverado

-Dodge Durango

-Nissan Titan

-Ford – 150

-Dodge RAM 1500

-Mercedes GLC
The all-new Nitto NT420V Tire is available at BB Wheels in all sizes and for your vehicle, along with many other popular models of Nitto like the Trail Grappler, Mud Grappler, Nt555 G2, and many more. Visit our online store and purchase at an affordable price. We have a wide-ranging selection of best off-road and street tires.When you buy Nitto tires from us we include Free Nationwide Tire Road Hazard Protection. We also Finance Wheels and Tires For ALL Credit Types
Still not convinced? Give us a call at 320-333-2155 and we can help you find the perfect set!